Plan Travel To Kashmir
Kashmir is a typically oval shaped valley and has a parallel axis to the direction of the magestic mountains – The Shivaliks, The Middle Mountains, The Pir Panjal, The Himalayas, The Zanaskar, The Ladakh and The Korakaram.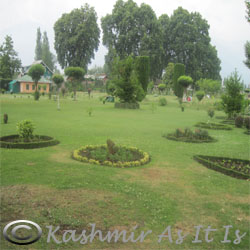 As per the mythology, the valley of Kashmir used to be vast Lake, called Satt-e-Sar, which in course of time got drained by deepening of the Baramulla - Khadiniyar gorge. The valley is distinctively marked by breath-taking lakes, fresh water streams, luscious fruits, magnificent forests, mighty mountains and lush meadows which makes it a true paradise on Earth. The mountain-downs or "Margs" are numerous on the tops of the hill ranges prominent being Gulmarg, Sonamarg, Yousmarg etc.
In order to taste the real beauty of Kashmir, follow a real travel planner, day wise. For roaming in the paradise you need atleast 12 - 15 days. It is adviced to keep 'Srinagar' as the base camp and always keep map of the state with you while you are out for an adventure.

DAY 1:
Reaching Srinagar
By Air: Srinagar Airport is now an international airport. All major airlines operate daily regular flights from New Delhi & all major cities of India.
By Road: For Srinagar there are buses and taxis running from Jammu. All types of buses and taxis are available and can be hired from Jammu railway station or Jammu Bus stand.
By Train: Not available right now, however, Kashmir is being connected by rail with Jammu and the project is expected to be commissioned within the next 5-7 years.
Once you have reached Srinagar, Taxis or local vehicles are available to drop you in the city area where you can book rooms in finest resorts or hotels. This day should be kept to rest your body and refresh your mind. In the evening you can enjoy cool Kashmir breeze by walking on a long stertch of Boulevard Road. While coming back to your hotel room drop in by "Ahdoos" tea shop - it has the finest and most authentic Kashmiri tea.
DAY 2:
Gardens and Dal Lake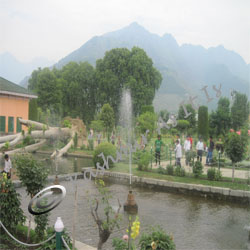 Start you day a little early around 9:00am in the morning.
Visit all Mughal Gardens in the city - Shalimar | Nishat | Chashm-e-shahi | Pari Mahal | Harwan | Tulip Garden | Boutonical Garden
By evening you will be done with all the Mughal Gardens and then you can move to Dal Lake. Have a shikara ride and visit Nehru Park and Char Chinari. Book a room in the houseboat for night stay. Also do not forget to see the floating markets at the night.
DAY 3:
Pilgrimage
Keep this day to bless yourself from the holy deities of the valley. Start a little early from the houseboat, to enjoy the vastness of the lake ask the boatman to give you a trip from Nagin lake to Dal lake.
After the ride you can have a quick breakfast and start for Manasbal. Cover, Manasbal | Tul-Mul (Kheer Bhawani) | Hari Parbat | Sharika peeth | Shankracharya | Chatti Patshahi Gurudwara | Hazrat bal.
DAY 4:
Gulmarg
Keep all day for - Gandola ride | Local gardens (Picnic spots) | Khillan Marg | Golf Club | Maharaja Palace. To make the visit more mystifying, have a night stay in the Gulmarg valley. While your ride to Gulmarg, you can also visit Saffron farms & buy authentic Kashmir Willow bats.
DAY 5, 6 & 7:
Pehalgam & Near by Areas
Start the adventure by visiting famous Betaab valley in Pahalgam, then the Bobby Cottage. Relax for a while by playing golf in Pehalgam golf course.
Divide your trip time to visit: Acchbal | Kokarnaag | Verinaag | Matan | Adoos | Chandanwadi | Baba Rasheed Dargah | Liddar Valley | Dacchigam.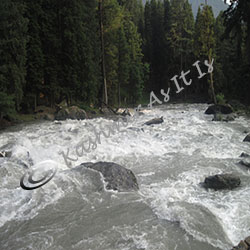 DAY 8,9 & 10:
Sonmarg & Amarnath
Sonmarag is another beautiful valley. If you want you can proceed for Amarnath from here as well (if the Yatra season is on). You need one day to enjoy the raw nature of the valley and two days for Amarnath Yatra.
DAY 11:
Old city
Enjoy your day among the local folks, walk across the old city. You can also visit the famous 7 bridges that connet one part of Srinagar to another - Zero Bridge | Amira kadal | Haba Kadal | Fateh Kadal | Zein Kadal | Ail Kadal | Safa Kadal. Although new bridges have been created but the remains of the old bridges have been kept intact.
DAY 12:
Shopping
Kashmir is also famous for the handicrafts and other unique materials. All the shopping can be done from Residency road | Polo View | Lal Chowk